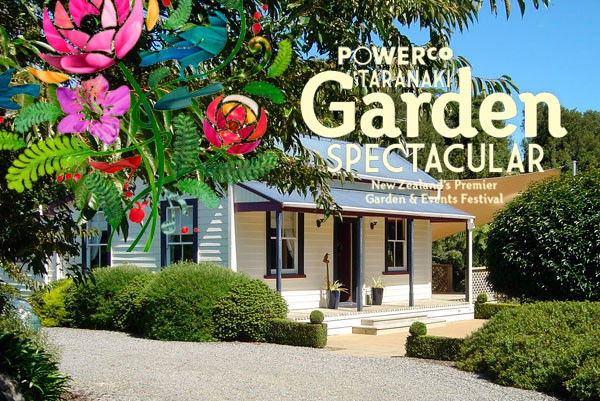 12 Oct

Powerco Taranaki Garden Spectacular 2017
Kingfisher Cottage Garden & Cafe feature in Powerco Taranaki Garden Spectacular 2017
27 October 2017 – 5 November 2017
Well it's that time of the year again! We are all counting down to the Powerco Taranaki Garden Spectacular 2017. As in previous years we are opening up the ever popular Kingfisher Cottage café for the duration of the festival. It is the one time of year that the café is in operation so come and enjoy Gourmet café-style refreshments and espresso coffee in the glorious garden setting.
A quaint historical cottage, fully restored and open to view, is the centrepiece of this secret garden which combines native plants with rhododendrons and other exotics. Paths lead down to an attractive river setting.
Artists Mike and Celeste from 'Celebration Platters' will have their work on display and be in residence on weekends!
Book ahead for a Ploughman's lunch or to reserve a table. Groups welcome. Licensed.
Book Now
South Taranaki Garden Event at Tairoa Lodge
Ginette McDonald – from Tawa to Hawera (and everything in between) 
Ginette cannot type, ride a horse, dance, play sports or sing in tune. All this adds up to a library of entertaining stories she'll be sharing in an intimate tell-all evening, complete with pithy social commentary. 
Friday 27 October 2017 – 7.30pm – Tairoa Lodge, Hawera
For further information, click here.